World IVF Day: From The Birth Of Louise Brown To Present, How IVFs Evolved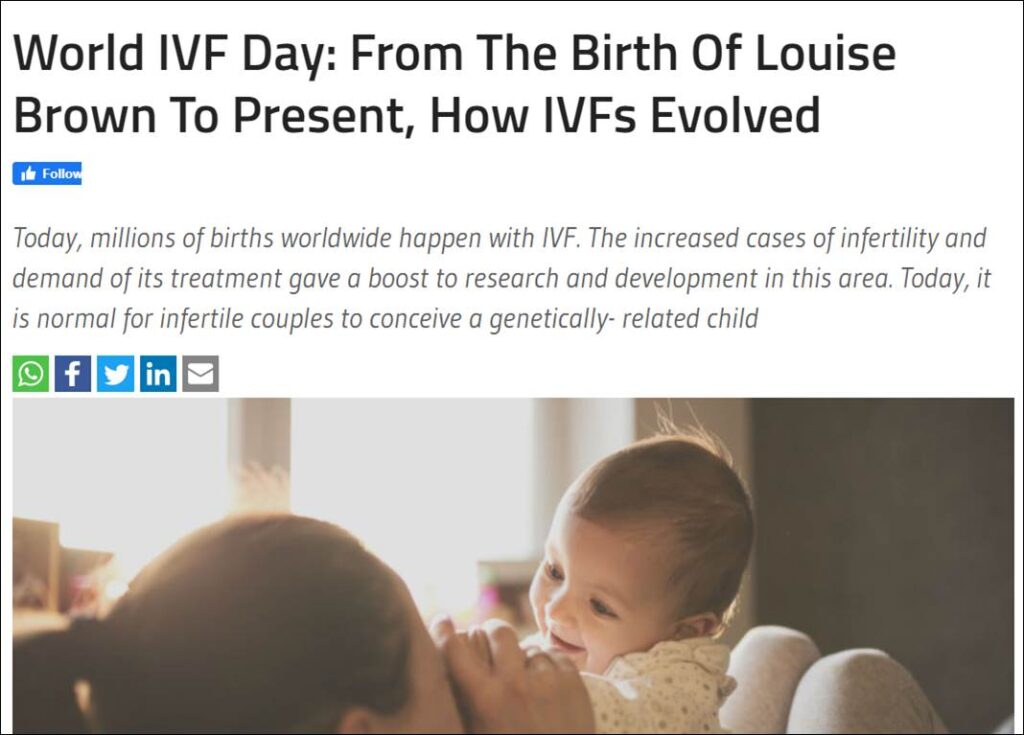 Today, millions of births worldwide happen with IVF. The increased cases of infertility and demand of its treatment gave a boost to research and development in this area. Today, it is normal for infertile couples to conceive a genetically- related child
World IVF Day is celebrated on 25th July to mark the birth of the first test tube baby Louis Brown.
On 25th July, 1948 Louis Brown was born in the Royal Oldham Hospital, United Kingdom. She is the first among around 7 million babies born with IVF.IVF was an experimental process back then. Lesley Brown went for the IVF procedure in November 1977. During the process one mature egg was removed for her ovary and combined with her husband's sperm in a laboratory dish for the process of embryo formation. When the embryo was formed, it was implanted into her uterus after a few days. Her IVF doctors were a British gynaecologist Patrick Steptoe and a scientist Robert Edwards.
Evolution of IVF technologies:
Today, millions of births worldwide happen with IVF. The increased cases of infertility and demand of its treatment gave a boost to research and development in this area. Today, it is normal for infertile couples to conceive a genetically- related child.
Even use of donor sperms and oocytes is becoming common. The technology is so advanced that embryos too can be genetically tested to decrease the chance of single- gene mutations. Women who are unable to carry a pregnancy can opt for surrogacy.
These are the major milestones that IVF has crossed in recent decades
Preimplantation Genetic Testing:
Before 1990, there were little to no options available to prevent transmission of genetic defects. Technology was limited to invasive techniques such as amniocentesis and chronic villus sampling.
Now preimplantation genetic testing is common where they biopsy cells from the trophectoderm of the blastocyst stage embryos.
Reducing the Risk of Multiple Gestations
Earlier, during the process of IVF, multiple embryos were implanted in the uterus with the hope that at least one embryo would survive which sometimes led to multiple births. But due to improvements in embryo culture and cryopreservation techniques such cases are reduced. The number of embryos transferred is reduced and the quality of the embryo transferred is increased which prevents the risk of multiple births.
ICSI – The Intracytoplasmic Sperm Injection is a process in which a single healthy sperm is selected and injected directly into the egg for fertilisation. The treatment helps in overcoming the male fertility issues. It is preferred by males who have low sperm count or poor sperm motility.
Time- lapse imaging – This process is used to take pictures of embryos at regular intervals of time. This allows embryologists to keep track of embryo development. This is also known as the morphokinetics monitoring as it is the process to keep track of morphological changes of embryo.
Magnetic-activated cell sorting (MACS) – This process requires a really small biodegradable magnetic particle with an antibody known as Protein annexin. The antibody fastens itself to the sperm which has high DNA fragmentation. This process helps in finding a sperm which has the best DNA integrity from the semen sample.
Vitrification – Vitrification is a process by which embryos and eggs can be frozen for later usage. Survival rates of gametes are much higher in case of vitrification than conventional slow freezing.
Though the process of IVF has improved a lot in terms of technology and techniques. But it still has a long way to go to ensure guaranteed pregnancy. Due to advancement in medical technology, the process has become relatively safer than what it used to be a few decades before. World IVF is also the day when we should appreciate the efforts of all the people who made the progress possible in this area. All the researchers, scientists, doctors and even the patients who took part in the change made this possible and today it helps hundreds and thousands of couples who face infertility.